PROMOTIONAL MATERIALS
MARKETING GUIDE
#LCSD Marketing Guide and Retailer's Handbook
This guide will give you tools to help you  market and advertise Local Comic Shop Day®.   It will also set out the rules of the day and present an FAQ.   You will also find a a sample press release, twitter handles for publishers and creators so you can start a conversation re: Local Comic Shop Day®, sample Facebook and Instagram posts, etc.   Please look the handbook over and give it to the person in your store who handles your advertising/social networking.
MINI-POSTERS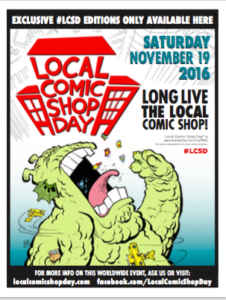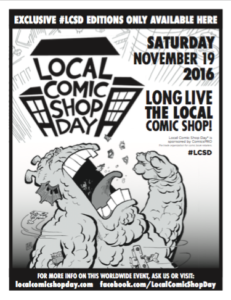 Black and White 8.5″ by 11″
Print Ready Black and White Flier 
Color 8.5″ by 11″
Print Ready Color Flier
MINI-POSTER WITHOUT WORDS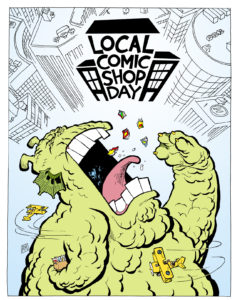 SHELF TALKER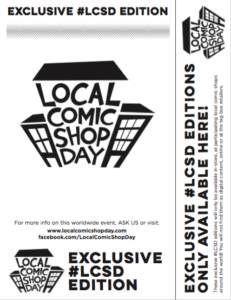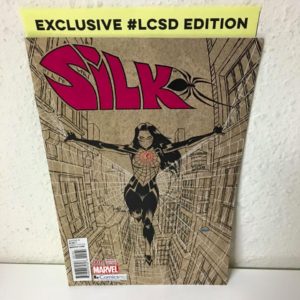 The shelf talker is designed to be used on top of the comic or on the bottom of the comic, depending on the shelving unit.   We recommend printing on colored cardboard.
Black and White 8.5″ by 11″
Print Ready Shelf Talker
LIST OF LCSD ITEMS
AUG168304 LCSD 2016 DOLLFACE FREE PRINT (NET)
AUG168303 LCSD 2016 DOLLFACE #1
AUG168305 LCSD 2016 ROUGH RIDERS NATION #1
AUG168306 LCSD 2016 ARCHIE MEETS RAMONES ONE SHOT
AUG168307 LCSD 2016 BLACK HOOD SEASON 2 #1 (MR)
AUG168310 LCSD 2016 GODKILLER SECRET ITEM
AUG168309 LCSD 2016 GODKILLER DELUXE HC
AUG168312 LCSD 2016 THE FOREVERS SECRET ITEM
AUG168311 LCSD 2016 KIM AND KIM #1
AUG168308 LCSD 2016 DISCIPLES HC VOL 01 (MR)
AUG168313 LCSD 2016 KLAUS HC LOCAL COMIC SHOP EXC (C: 0-1-2)
AUG168314 LCSD 2016 WWE LTD ED BUNDLE (C: 0-1-2)
AUG168220 LCSD 2016 SERENITY NO POWER IN THE VERSE #1 (OF 6) EXC VAR
JUL168581 LCSD 2016 DC COMICS BOMBSHELLS KILLER FROST STATUE
JUL168582 LCSD 2016 DC UNIVERSE REBIRTH DELUXE EDITION HC
JUL168167 LCSD 2016 LOST IN SPACE ANTIMATTER B9 VINIMATE (C: 0-1-2)
AUG168221 LCSD 2016 TRANSFORMERS REVOLUTION #1
AUG168150 LCSD 2016 OUTCAST BY KIRKMAN & AZACETA HC VOL 01 EXC (MR)
JUL168777 LCSD 2016 MOONSHINE #1 MILLER B&W EXC
AUG168737 LCSD 2016 LYING CAT STATUE EXC
AUG168302 LCSD 2016 NOW CHAMPIONS #1 NEAL ADAMS VAR (NET)
JUN168830 LCSD 2016 DOCTOR STRANGE OATH EXCLUSIVE HC
AUG168315 LCSD 2016 THE TICK (ONE SHOT)
AUG168317 LCSD 2016 RICK & MORTY #0 TREASURY ED (C: 1-0-0)
AUG168316 LCSD 2016 INVADER ZIM #0
AUG168318 LCSD 2016 WARHAMMER 40000 WILL OF IRON #1 (OF 4)
AUG168320 LCSD 2016 HARBINGER RENEGADES #1 SEGOVIA VAR
AUG168319 LCSD 2016 BLOODSHOT USA #1 (OF 4) FUSO VAR
LINKS TO LCSD ONLINE GALLERIES
LOGOS
IMAGE 1 – Square Graphic  (300 by 300)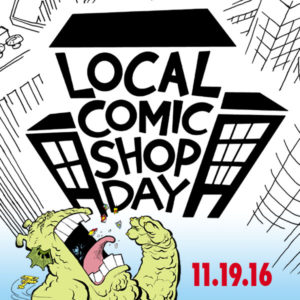 IMAGE 2 – Facebook Group Page Banner (828 by 315)

Website Banner (900 by 228)

Other