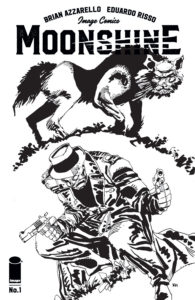 RETAILERS: A special version of MOONSHINE #1 has been announced for Local Comic Shop Day®.
This version has to be ordered through FOC by THIS MONDAY, SEPTEMBER 12TH. It is a black and white version of one of the two regular covers. (Frank Miller Art).
All other items, by other publishers, will be ordered on 9/19 with FOC 9/26.
———————————
LCSD 2016 MOONSHINE #1 MILLER B&W EXC
JUL168777
SIGNIFICANT ORDERING INFORMATION:
Available only to retailers participating in Local Comic Shop Day
Open to order
Features cover art by Frank Miller
FOC is September 12, 2016
Local Comic Shop Day is November 19, 2016.
————————————
LCSD 2016 MOONSHINE #1 MILLER B&W EXC
Set during Prohibition, and deep in the backwoods of Appalachia, MOONSHINE #1 tells the story of Lou Pirlo, a city-slick "torpedo" sent from New York City to negotiate a deal with the best moonshiner in West Virginia, one Hiram Holt. What Lou doesn't figure on is that Holt is just as cunning and ruthless as any NYC crime boss. Because not only will Holt do anything to protect his illicit booze operation, he'll stop at nothing to protect a much darker family secret…a bloody, supernatural secret that must never see the light of day… or better still, the light of the full moon.
MOONSHINE #1 marks the first time AZZARELLO and RISSO have worked together for Image Comics and reunites the Eisner Award winning creative team that defined modern crime comics with 100 Bullets… and now puts a horror-twist on a classic gangster tale. Issue #1 features a variant cover by legendary comics creator, Frank Miller!