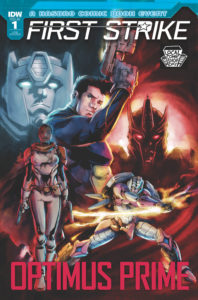 Optimus Prime: First Strike #1 Local Comic Shop Day Variant
John Barber (w) • Guido Guidi (a) • Paolo Villanelli (c)
With Cybertron under siege by Baron Ironblood's forces, Optimus Prime and Arcee defend their homeland! Caught in the middle is the human/Transformer team known as the Revolutionaries—and one of them has a secret that puts everyone at risk!
FC • 32 pagesEndFragment    
Limited to 1,000
Retailers, you have until September 18th, 2017 to register at www.comicspro.org/lcsd2017.