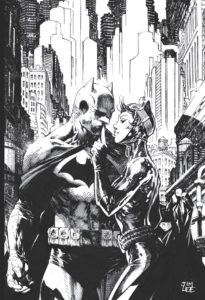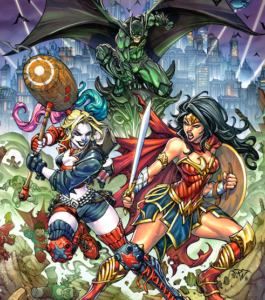 To celebrate Local Comic Shop Day®, DC Entertainment is releasing two items.
The first is a 1,000 print run of Batman: Hush 15th Anniversary Deluxe Edition HC.   It has no front cover trade dress and new black and white Jim Lee Cover art.
The second item is a "Lost Variant".   It is a Justice League Vs. Suicide Squad #1 with cover art by  PAULO PANTALENA.  Print run is 3,000.
————————————–
BATMAN: HUSH 15TH ANNIVERSARY DELUXE EDITION LCSD VERSION HC
Written by JEPH LOEB
Art by JIM LEE and SCOTT WILLIAMS
Cover by JIM LEE
This special version of the new BATMAN: HUSH Deluxe Edition hardcover
features new cover art by Jim Lee presented in black and white with no
front cover trade dress, limited to just 1,000 copies for LCS Day
partipating stores only!
In this classic tale, Batman sets out to learn the identity of the
mysterious villain known as Hush. But Batman ends up facing the most
intense case of his life as secrets from his past flood into the present!
Guest-starring the Dark Knight¹s greatest allies and enemies, this title
presents BATMAN #608-619, a 6-page segment from Wizard #0 and a 2-page
origin story that originally appeared at dccomics.com, collected as a
Deluxe Edition hardcover for the first time, along with a brand-new cover
by superstar artist Jim Lee!
376 pg, FC, 7.0625² x 10.875² € $49.99 US
JUSTICE LEAGUE VS. SUICIDE SQUAD #1
Written by JOSHUA WILLIAMSON
Art by JASON FABOK
Variant cover by PAULO PANTALENA
The debut issue of the smash-hit miniseries that rocked comics shops in
December is back in a special edition with a variant cover by Paulo
Pantalena, available only to LCS Day participating stores only!
The first major event storyline of DC¹s Rebirth era begins with a day
Amanda Waller always knew would come: the Justice League discovers the
existence of the Suicide Squad! This government-sponsored black-ops team
of super-villains with bombs implanted in their brains is obviously a
deal-breaker for Earth¹s paragons of truth and justice! But you can bet
that the Wall and her Task Force X won¹t go down without the fight to end
all fights as this weekly series gets underway!   Print Run is 3,000 units.
*** RETAILER REGISTRATION CLOSES ON SEPTEMBER 18TH.  PLEASE REGISTER NOW!  ***
www.comicspro.org/lcsd2017