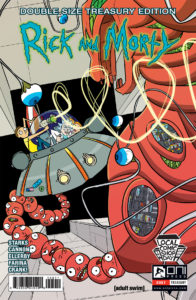 Following up on the first two Rick and Morty Local Comic Shop Day® Treasury Editions (2015, 2016), Oni once again offers the fan-favorite Rick and Morty Local Comic Shop Day Treasury Edition in 2017!
Dan Harmon and Justin Roiland's hilarious hit Adult Swim animated show RICK AND MORTY has its own comic book series from Oni Press! Join degenerate superscientist Rick Sanchez as he embarks on all-new adventures with his awkward grandson Morty, his teenage granddaughter Summer, his veterinary surgeon daughter Beth, and his hapless son-in-law Jerry.
This special double size treasury edition for Local Comic Shop Day includes issues #17 and #26, two hilarious standalone issues written by Kyle Starks (Sexcastle, Kill Them All) and illustrated by series artists Marc Ellerby and CJ Cannon. Come for the jokes, stay for the crushing ennui. Wubba lubba dub dub!
*** RETAILER REGISTRATION CLOSES ON SEPTEMBER 18TH.  PLEASE REGISTER NOW!  ***
www.comicspro.org/lcsd2017