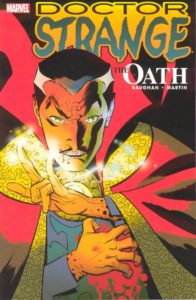 Marvel Comics to offer the Oath HC exclusively for Local Comic Shop Day®
The Doctor Strange: The Oath hardcover, with the fan favorite creative team of writer Brian K. Vaughan and artist Marcos Martin is timed for release on Local Comic Shop Day when Marvel Studios' Doctor Strange feature will be in theaters.
"ComicsPRO is thrilled that Marvel Comics is offering an exclusive printing of Dr. Strange: The Oath hardcover to Local Comic Shop Day® participating retailers," said Peter Dolan, President of ComicsPRO's board of directors. "We're strongly encouraging retailers to register now. If you don't register your store by August 19th, you'll miss out on getting this item."
The Dr. Strange:  The Oath Hardcover has 184 pages, and contains new bonus features including original series pitch, script, page layouts, pencils/inks, character sketches, and promo pieces.