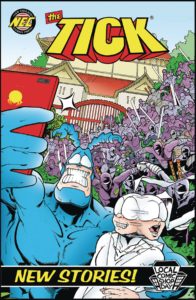 Original Content! New Stories!
NEW ENGLAND COMICS
(W) Jeff McClelland (A) Duane Redhead, Various
The Ninjas reborn? All new stories, cover to cover! The word on the grimey streets of The City is that the Ninjas are making a new push to rebrand, reform and rebuild with the help of a charismatic and mysterious new leader. The Tick & a reluctant Arthur decide to disguise themselves in Ninja garb and infiltrate one of the secret meetings. Will the upstart Ninjas see thru The Tick's rather "out-stretched" ninja costume? Or can our heroes stop the rebirth of the Ninja clans in The City?
On sale November 19th at participating Local Comic Shop Day® retailers!