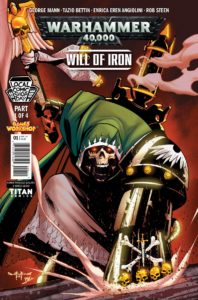 TITAN COMICS
(W) George Mann (A) Tazio Bettin (CA) Pasquale Qualano
After a thousand years of warp storms, the Calaphrax Cluster has re-opened to the universe, and Baltus and his fellow Dark Angel Space Marines join a strike force sent to explore and secure the region, in search of forgotten artefacts and ancient technology! But the forces of Chaos are never far away… and a shameful Dark Angels secret from the Horus Heresy soon leads to a new front in the war!
 On sale November 19th at participating Local Comic Shop Day® retailers!