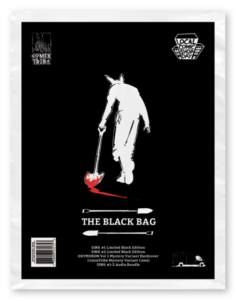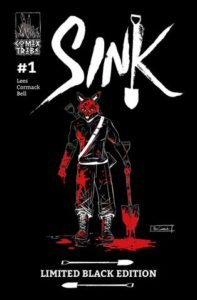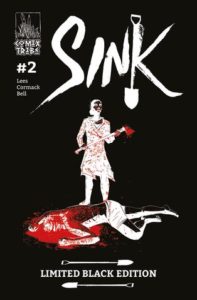 Two weeks ago, Sink #1 sold out at comic book stores wordwide.
For Local Comic Shop Day®, ComixTribe is offering a BLACK BAG special which includes LIMITED EDITION variants of the first two issues as well as one of eleven inserted mystery OXYMORON Volume 1 Hardcovers, each a rare limited edition print run.

The BLACK BAG also includes a randomly inserted hard-to-find ComixTribe single issue variant, and a downloadable SINK #1 & 2 Digital Audio Bundle, featuring a soundtrack to accompany your reading of SINK #1 & 2, plus creator commentary on both issues by writer John Lees & artist Alex Cormack

SRP of a black bag is $29.99. Only 900 units made.

Killer clowns in a blue van, shovel-wielding vigilantes, and the last bus you'd ever want to ride… You must be in Sinkhill.   

A forgotten East End district of a warped funhouse mirror vision of Glasgow, Scotland, Sinkhill is a hive of crooks, deviants and killers, and ordinary folk unfortunate enough to live among them. SINK is a vicious new crime series from the creative team behind OXYMORON: THE LOVELIEST NIGHTMARE.