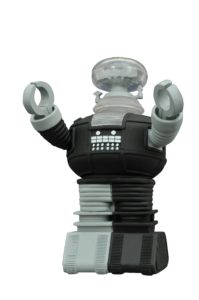 First Collectible Toy released for Local Comic Shop Day®.
Diamond Select Toys. Danger, Will Robinson! The Vinimates line is expanding at an alarming rate! Based on the classic TV series Lost in Space, this 4-inch Vinimates Vinyl Figure depicts the robot B9 in the style of a Minimates block figure, but in alarmed, arms-raised pose, as if warning your other Vinimates of imminent doom! This exclusive variant, made for Local Comic Shop Day retailers, is painted in his black-and-white Anti-Matter color scheme from "The Anti-Matter Man." Figure is cast in PVC plastic, with detailed paint applications. Packaged in a full-color window box.
On sale November 19th at participating Local Comic Shop Day® retailers!